Pet Grooming Mitt (Scented & Moist) 6pcs.
Regular price
$17.98 USD
Sale price
$15.98 USD
Unit price
per
Sale
Sold out
Discover the Pet Grooming Mitt: a single-use, scented solution that effortlessly wipes away dirt and odors, ensuring a clean, fresh coat every time.
Veterinarian-approved, hypo-allergenic, and eco-friendly for your pet's daily grooming needs.
FITS ALL HAND SIZES
IDEAL FOR PET GROOMING
DISPOSABLE MITT WIPES
Struggling with Persistent Pet Odors?

Every pet lover knows the challenge: that unmistakable pet odor lingering between baths, and the sneezes from dander allergies. Now, there's an effortless way to ensure a fresher, cleaner pet every day.
The Pet Grooming Mitt is the ultimate pet grooming product. It is a single use, disposable product that offers a gentle, cleansing formula and mild deodorizer-essential for maintaining a clean and healthy coat. The non-toxic ingredients control pet odors and reduce allergy-causing dander.

With The Pet Grooming Mitt you get "A Clean Fresh Wipe Every Time."

• Grooming mitt for all pets
• Alternative to a bath
• Wipes away dirt and odors
• Antibacterial & hypo-allergenic
• Eco-Friendly
Veterinarian Approved For Daily Use.
Ingredients

Aqua

PEG-7 Glyceryl Cocoate

Benzalkonium Chloride

Dimethicone

Polysorbate-20

Capryly/Capryl Glucoside

Parfum
30 Day Refund Policy

Did you love your Duty Mitt product? If not, see below for return details.


• For products returned within 30 days of online purchase date, a refund will be issued to the original form of payment at the original selling price.


• Refunds are provided for unused and/or unopened pet grooming mitts and clean-up bags. We will accept opened boxes containing remaining product as long as they are still sealed (i.e. Box of 12 Duty Mitts is returned with 11 remaining packages, for a full refund).


• Refunds will not be issued for used or damaged packaging.


• Any purchases deemed "Final Sale" cannot be returned or exchanged.


• Customers are responsible for any shipping & handling expenses.


• To initiate a return, please contact us

Processing times: 1-3 days
Shipping Info

All Orders are shipped out within 48 hours. [EDIT AFTER CONFIRMING WITH CLIENT]

You will be responsible for paying for your own shipping costs for returning your item. Shipping costs are non​refundable.

If you receive a refund, the cost of return shipping will be deducted from your refund.

Processing times: 1-3 days
Processing times

Processing times: 1-3 days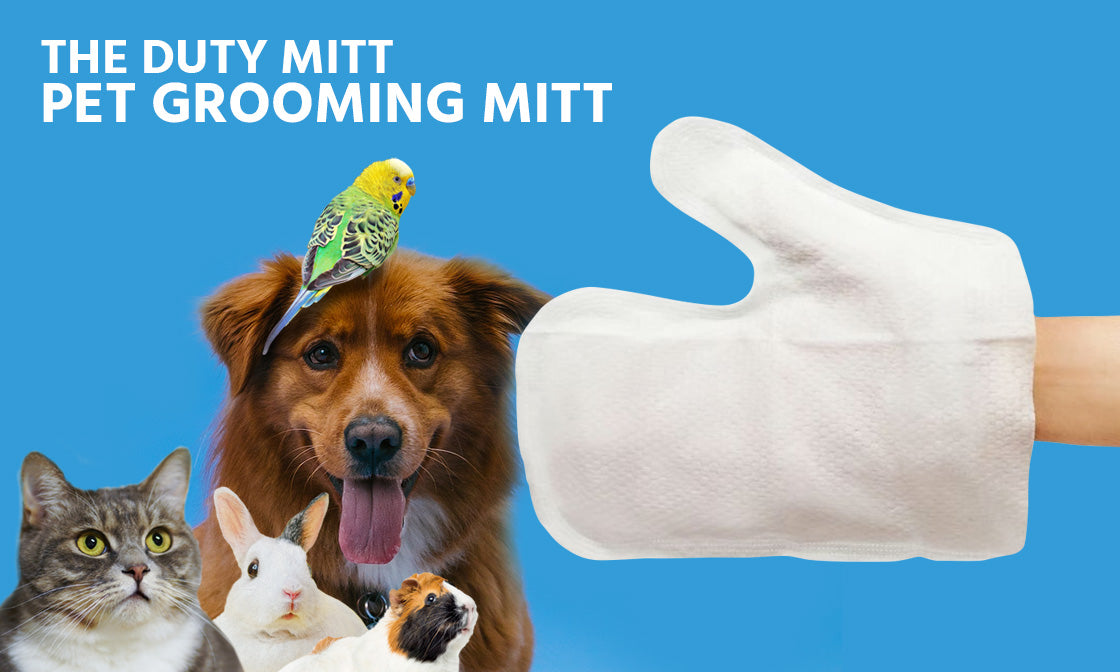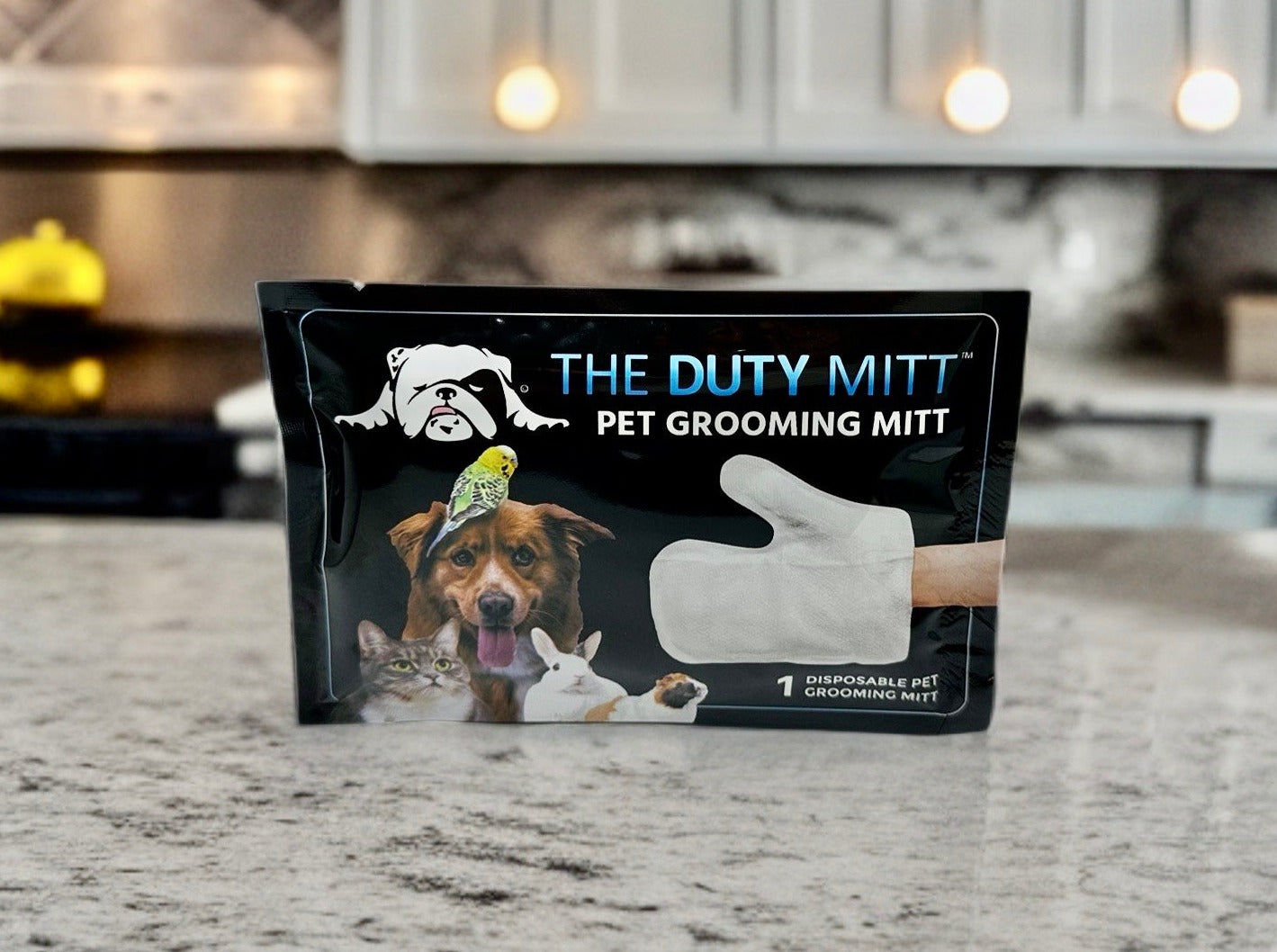 Effortless Grooming
Watch as our Pet Grooming Mitt simplifies your Pet's grooming routine. No more struggling with persistent odors or tedious baths. With just a few swipes, experience a fresher, cleaner pet, all while reducing allergy-causing dander. A clean, fresh wipe every time – truly effortless care for your beloved companion
Frequently Asked Questions
How often can you use TheDutyMitt Pet Grooming Mitt?

Veterinarian approved for daily use
What parts of the body can you use the grooming mitt on?

It is safe to use on the whole body. Inside the ears, face, stomach, paws and butt.
Do you need any other products to groom your pets?

No water or shampoo is needed. The hypoallergenic mitt has a gentle formula that cleans and deodorizes your pets.
How many times can you use a single grooming mitt?

It is a single use, disposable product that offers a gentle, cleansing formula and mild deodorizer for maintaining a clean and healthy coat.

How many Mitts are in the box?

There are 6 mitts in each box.
Here's what our customer's have been saying
"EXCELLENT, AMAZING PRODUCT. I wanted to try this out after hearing about it from a friend......i was pleasantly surprised with how great it is! Packaging is convenient for on the go. The mitt is high quality and is so easy to use. Fast, fast, fast shipping......i will be ordering a 50 pack! Well worth every penny. Do yourself a favor and get it!"- John

"This product exceeded my expectations! I got it on a whim because my dog HATES bath time, but they are amazing! If you're on the fence, don't hesitate. The smell is delicious and the shipping is super fast. Give it a try! My Pablo has never smelled so good!"- Pablo

"Received item very quickly in a cute shipping bag. Item is shaped just like a mitten, should fit all hand sizes. Smells great and nice, thick quality. Comes individually packaged, so each mitt stays moist. I used one to wipe my pup's paws after a walk on the beach. Worked beautifully. Small enough to keep in your car glove box or jacket pocket. Useful for not only wiping your dog, but any other clean up!"- Corhcan